BUSINESS BOOT CAMPS COMING TO NAPA & SONOMA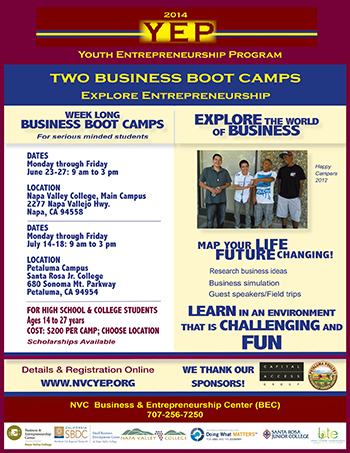 Explore entrepreneurship! Napa Valley College and Santa Rosa Junior College will each host a summer business boot camp. Map your life-changing future and learn in an environment that is challenging and fun!
Business Boot Camp is an intensive learning experience that allow youths to explore the world of business. It includes researching business ideas, business simulation, guest speakers and field trips.

For high school & college students, ages 14 to 27
9am to 3pm daily for one week

The cost is $200 per student per camp
Choose from two locations:

Monday June 23 - Friday June 27 at Napa Valley College, Main Campus
Monday July 14 - Friday July 18 at Santa Rosa Junior College, Petaluma Campus
Spaces are Limited!
---
ABOUT THE YOUTH ENTREPRENEURSHIP PROGRAM
The Youth Entrepreneurship Program (YEP) is made possible by the California Community College Chancellor's Office, as well as the Napa Valley College in response to the demand for educating the next generation of entrepreneurs. The program is designed for high school and college students who want to explore the world of business. Students receive practical, hands-on training from business advisors and local business leaders.
Competitions and clinics are supported by local businesses and organizations, including the Napa Valley College Foundation, the Napa Valley College Business and Entrepreneurship Center (BEC), the Napa County Regional Occupational Program, the Napa Valley College Chancellor's Office, and the Economic Workforce Development Program.